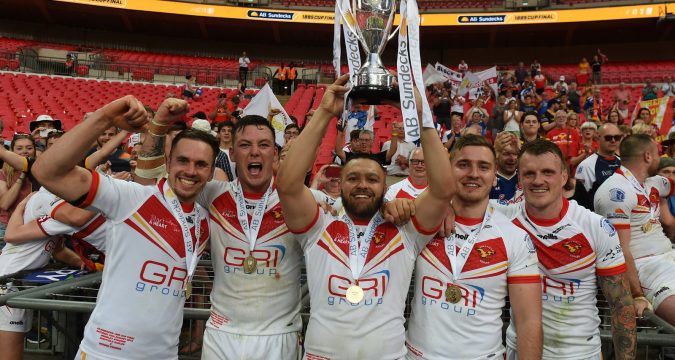 Sheffield Eagles will start their defence of the AB Sundecks 1895 Cup in April as part of a fresh look for the competition.
Mark Aston's side lifted the inaugural trophy with a memorable Wembley triumph over Widnes in August last year, and he is keen to return.
Aston said: "It was a fantastic day for us as a club.
"There were people who didn't support it and I understand the reasons for some of that with double fixtures.
"But how many people get the chance to play at Wembley?
"We had a number of players come through our system that were probably on the terrace when we won the Challenge Cup in 1998, and for them to realise their dream is something special.
"We'd loved to go back – why wouldn't we?"
This season Sheffield will join eleven other Championship clubs, minus Toulouse and London, who have chosen not to take part, plus five clubs from League One and three leading community clubs.
National Conference League champions West Hull will join York Acorn and Underbank Rangers in the first round draw, which will be held in Cumbria on March 18.
They will be joined by five clubs from League One – Barrow Raiders, Doncaster, Keighley Cougars, Newcastle Thunder and Rochdale Hornets.
As last year, the twelve Betfred Championship clubs who have entered the competition have been given a bye to the second round, where they will be joined by the four first-round winners.
This year the second round draw will also be held on March 18 at Ullswater Heights Leisure Resort, to allow clubs more time to plan their fixtures.
The first round ties are scheduled for the weekend of April 18-19, with the eight second round ties to be played in midweek, in the week starting April 27.
The quarter-finals will be played in the week starting May 11, with both semi-finals on Sunday June 7 – and the final again at Wembley Stadium on Coral Challenge Cup Final Day, July 18, but this year being played ahead of the…